The North Atlantic Treaty Organization has never been stronger than during this period, stated, on Tuesday, the charge d'affaires of the US Embassy in Bucharest, David Muniz, at the international conference "Romanian Military Thought".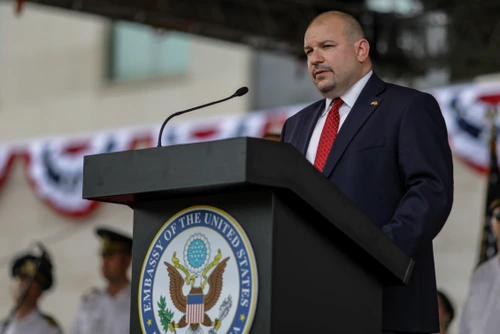 US Chargé d'Affaires says NATO has never been stronger PHOTO Inquam Photos
"Putin and the world now see that NATO has never been stronger. NATO will not bow down. No way. And the peace-loving countries will continue to support and help our Ukrainian friends. We live in dark times. But in our efforts to restore international order in the region, what helps us is that we do it together," the diplomat said.
He congratulated the Romanian Government. "You are in a critical place, in a critical space, and your help is essential and you should be very proud of what you have achieved," Muniz emphasized.
"Today we are constantly reminded that there is no more peace in the region and we are reminded why NATO is necessary," he said.
"We wake up every morning here, at the gates of Europe, on the Eastern border of the Alliance, and we see what was unthinkable for many of us a year ago. Everything changed on February 24. The worst and most undisciplined elements of the Russian war machine have been unleashed on the continent in places that will be associated with massacres of innocent people and are again in the news: places like Odessa, Mariupol, Kyiv and others. Much of Ukraine looks today as it did under Wehrmacht occupation in 1943. Russia has managed to add new names to the blacklists of our collective memory, where Babi Yar and Katyn are. The Russian barbarities in Bucha and Borodianka are now known," he detailed.
David Muniz said that "Moscow's war seriously destabilized the Black Sea region, and now it has spread to threaten Europe and the world, like an echo of the 40s".
"We were set back 80 years by a country that ignores the international order, violates many treaties. (…) Russia has shown the world that its troops are incapable of understanding the laws of war and are too immoral to avoid committing war crimes," the American diplomat pointed out.