Article by Raed Krishan (photo) – Published on Sunday, 14 August 2022, 08:38 / Updated on Sunday, 14 August 2022 10:43
Gold medalist in the 100-meter freestyle, David Popovici (17 years old) is still competing today at the European Swimming Championships in Rome.
Gazeta's journalists, Roxana Fleșeru and Raed Krishan, are in Rome, and they deliver the most important news from the European Championships.
The Romanian races will be live on TVR 1 and liveTEXT on GSP.ro
In the 100 meter butterfly event, Alexandra Victorița Bogdăneci missed qualifying for the semifinals. She finished the series in last place, 10th.
David Popovici, left in lane 4, of the favorite, respected his status as the favorite and won the 6th series, with a time of 1:46.87.
Our athlete was first after 50 meters, but after 150 meters he was third. At the end, Popovici forced and finished first.
Popovici qualifies for the semifinals with the second time, being overtaken by the Hungarian Kristof Milak (1:46.26), whom he defeated in the 100 meters freestyle final.
The test semi-final is scheduled from 19:11.
The final ranking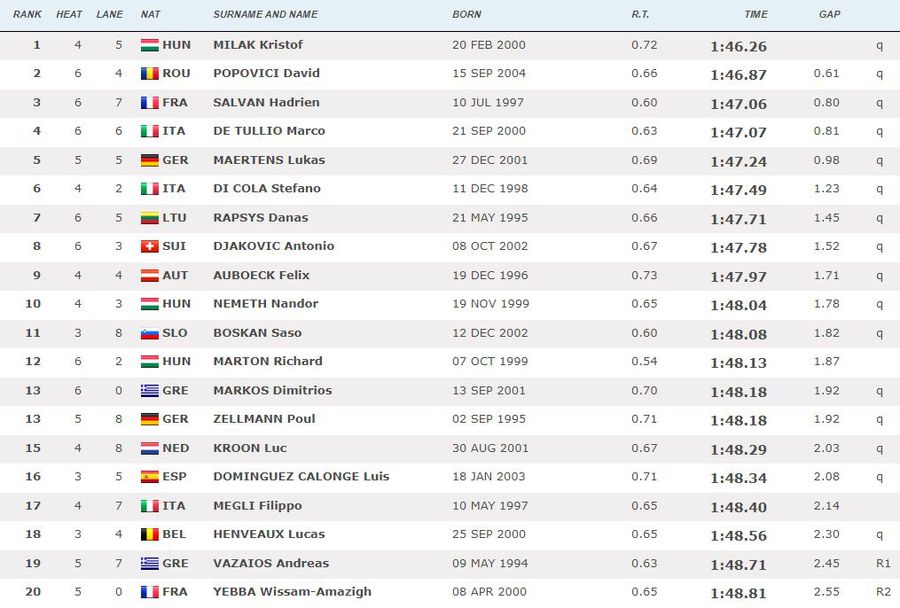 Romania, with David Popovici in the team, competes in the 4×100 meters freestyle event
From 11:00, the 4×100 meters freestyle race takes place, and Romania (David Popovici, Patrick Sebastian Dinu, George-Alexandru Stoica-Constantin, Mihai Gergely) will start in the second semi-final. The final takes place from 20:15.
The next goal for David Popovici
David revealed in an interview with the BBC that his next goal would be to get under 46.00 seconds.
"I wanted to swim as fast as I could, it seems that I succeeded. A dream would be a time with 45 ahead. I also admire Adam Peaty for the way he sets his goals, which for some seems like science fiction, for him it's possible," said Popovici.
Britain's Adam Peaty once set himself a goal of sub-57.00 seconds in the breaststroke, calling the feat "Project 56", which he did at the 2019 World Championships.
Read also:
"David Popovici is a crazy genius" » The tributes of the podium colleagues for the Romanian swimmer after the 100 meters final
Camelia Potec explains what David Popovici's result means for Romanian sport: "We only dreamed of this a year ago"