The Summer Work and Travel program is a cultural exchange program that offers students the opportunity to work in the United States during the summer vacation and then for a month, to travel through the States before returning to classes. The program is rather meant to help students experience and understand US people and culture, according to the US Embassy Consulate. Students may travel to the States with a J-1 Summer Work Travel (SWT) visa.
"Romania continues to be a global leader in the SWT program, often positioning itself among the top three countries with the largest number of participants in the world," the US Embassy Consulate told Libertatea.
To leave this program, students must pay for their plane ticket and must turn to a specialized agency to help them, for a fee, find a job in the United States and prepare for their departure. Basically, to leave, a student needs an amount of about 2,000-3,000 dollars.
Those who think they will stay illegal after the end of their work period risk never being able to travel to the United States again, if they are caught, not just a 10-year ban, as before.
Although there are no public data on how many Work and Travel students remain working after the permitted period, it is estimated that in total in the US it would be up to 500,000 students without legal documents.
July 2011. Departure
After working one summer in the States in 2009 through the Work and Travel program, Samer decided to repeat the experience two summers later, in 2011.
"I, having an Arabic name, and I was used to it, told me the consul or whoever was there, directly on the face:" I know you didn't do anything in America, but because of the Arabic name you will have to wait. a while until we check on your family »
recommendation
Klaus Iohannis, the first reaction in the case of the compromise action against Emilia Șercan, after the journalist revealed the plagiarism of Prime Minister Ciucă
I waited from April until shortly before the summer departure. When I received the visa, I felt "happy, knowing that I would stay. No one in my family knew. I knew I would stay in America forever. Or at least that was the idea. "
The young man was then a third year medical student, had a backlog and "I simply felt that medicine was no longer for me." As an alternative, he thought that in America he could open a restaurant, because "it was a hobby, my whole life attracted me to cook".
When he called his mother to tell her he had taken the visa, she began to cry before he could tell her anything. "He seemed to feel, on my word," the young man recalls.
New Jersey. America
After arriving in America, the job he was going to have during the summer at an amusement park in New Jersey, the beginning was difficult. But after 2-3 "weeks of shit", things started to go as expected. It was a good summer, before he implemented his plan to stay there. He was still convinced that he wanted to stay in the States, but he did not know where. Everyone said of New York, "that false documents are easily made there." It was also there that he was told that he was going without documents. He already had a Social Security Number. In the US, the Social Security Administration (SSA) assigns nine-digit social security numbers (SSNs) to U.S. citizens, permanent residents, and eligible workers in the United States. SSAs use SSNs to report wages to the government, to track social security benefits, and for other identification purposes.
recommendation
Romania will not enter an austerity process, the president claims. What is the plan to fight a possible crisis
A beautiful summer followed, even though it had to deal with Hurricane Irene, which swept part of America that summer and didn't even make money, as it hoped. But the expected moment, the end of summer, was getting closer.
In September, the period when everyone was traveling before leaving home, Samer took his ticket to Miami. "My dream since I was a kid was actually to get to Miami."
He left for Miami with a plane ticket and $ 210 in his pocket. Behind him, he was pulling a troller with two pairs of sneakers and some clothes. He didn't need more, just luck.
recommendation
Call for voluntary rationalization of water due to drought. Romanian waters show how much the water supply will decrease until next month
On September 12, the day of departure, he arrived at the Miami airport wearing jeans and a shirt. "I was struck by the heat and the humidity. It was incredibly warm, "he recalls. He left the airport. In addition to the heat wave, the thoughts were not easier to bear: "where do I go, what do I do?".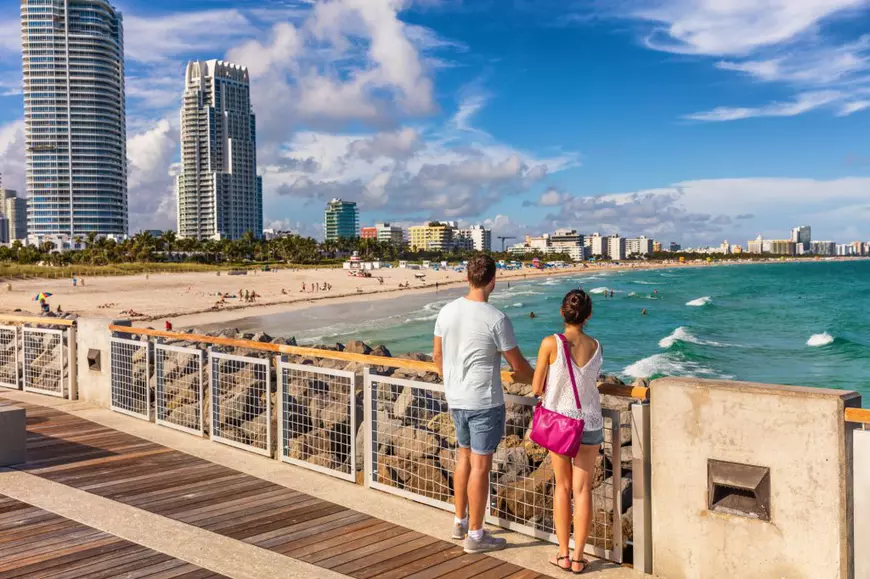 View from Miami, Florida. Photo: Shutterstock
He lost 27 pounds
He decided to try his luck to the end and got on the first bus that came. Bus number one, $ 2 70 cents trip. He got off the bus next to a McDonalds, he thought of eating something cheap. Opposite was an ad that was written for rent (for rent – n.trad.). He called the number displayed, and a Romanian woman answered the phone. They recognized each other when asked where their accent came from. The woman rented a studio for $ 1,300: 650 rent per month and 650 guarantee.
He came to show her the place, and when Samer told him his story, she let him sit without paying any collateral and pay the rent at the end of the month. The beginning looked promising. In less than a few hours since stepping into Miami, he had found "a perfect studio for me."
Across the road from the place he had just rented was a Russian store, where Romanian products were also sold: Borsec water, Vis chocolate, Jacobs coffee. All the signs were on his side. In a few hours he already had a house and, in addition, he had made a friend, also a Romanian who also lived in the area. The new friend told him that from September to December, Miami is dead in terms of job opportunities. The tourist season had just ended, and those in New York were going down to Miami later in the winter.
"I was totally demoralized, I didn't have money, I didn't tell my family that I didn't have money, I wanted to manage on my own."
He had frozen his year in college in the country and began looking for a job in America. That meant dedicating 16-17 hours a day to looking for a job. He generally walked. He had a bag with him, with two changes of clothes, because he was sweating a lot.
"I lived on a loaf of bread a day and cigarettes. I smoked a cigarette every three hours and sometimes I extinguished it halfway ".
A few days after arriving in Miami, he made his first money. $ 25 for washing a car. "I was mega, megafericit." He took five packs of cigarettes from them.
"If I ran out of cigarettes, I would go into severe depression. Many days had already passed since I was unemployed and I was constantly looking for it ".
It kept him afloat and the thought that he had come there knowing it would be hard for him and he didn't want to give up. Now, 11 years later, he thinks he was helped by the fact that he knew he had a safety net – his parents. A safety net that meant he could call his parents at any time to ask him to take a plane ticket, to return home.
"I wanted to go like this, like a camp, I didn't want to give up"
He also worked as a piccolo and cleaner in a restaurant. The visa he had received for the Work and Travel program was still valid, so it was legal.
Then he hired a waiter at an Italian restaurant. But in mid-October, they told him the restaurant was going to close. "The search has begun again." He already had some debts, two rents.
"The kilograms were going, they were going." From September to December, he lost 27 kilograms, out of the 98 he had.
A critical moment
On December 3, almost three months after he was tormented, he had a moment when he wondered if he was still worth it. "God, if it's my place here, send me a sign that I can't, I'm about to collapse," he told himself before going to sleep, even though he doesn't consider himself a religious man.
On December 4, he continued to look for work. He got a temporary place for cleaning at a restaurant. While clearing, the restaurant was filled with customers. He talked to the manager and offered to help and take care of a meal. He got a table to see if he could handle it. The payment was 18% of what was consumed at that meal. The first night he made $ 100. "It can't be," he told himself.
When he left the restaurant, he stopped at a store where he took a bottle of vodka, which he drank on a curb. "I said – that's it, it's working from now on."
He started earning between $ 200-400 every day. In three weeks he paid all his debts. He was even the "employee of the month", ie the one who brought the highest revenues.
At the same time, his visa expired, but he talked to the employer, who agreed to work there "illegally". He just told her to be careful, not to argue in any way with any client, because in case the authorities came, they all had problems.
But the problems came home. One night, when he returned from work, he discovered that he had been robbed. Someone broke into her house and stole her laptop and other things. He had nothing to do but accept the loss. He could not call the police, also because he did not have documents.
But the situation became more and more stressful and it had to be decided if another year of Medicine would freeze. He had already begun to see the dangers of living in America, especially in the context of which he had access. "Rather than get here through a ditch, I'd better go home, finish my medicine and come to America as a doctor," he told himself.
He worked until July 31, and on August 1, 2012, after 13 months in America, he left for Romania. At home, when "my mother saw me, shock! I was a fat child all my life, now I was weak ".
He returned to the country with $ 600, with "two big, big luggage" and "all the cravings done." He graduated in Medicine and has been working as a psychiatrist in Germany for 5 years.
"That was my American experience, work and travel."
GSP.RO
A foreigner moved to Galați was shocked by a Romanian habit: "I saw something in you that amazes me"
Playtech.ro
Elena Udrea, VIOLENT message from prison. The SHOCK announcement, what a turnaround!
Observatornews.ro
The antics of Romanian employers who employ migrants from India, Pakistan or Bangladesh
HOROSCOPE
Horoscope July 5, 2022. Cancers have a chance to return to better thoughts about certain projects of friends or relatives
stirileprotv.ro
Shot for smokers, from August 1st
Orangesport.ro
The Minister of Sports, Eduard Novak, caused another scandal! He was wrong about a Romanian athlete and tried to get out: "His mother will understand"
advertisement
Jewelry Seven, the custom jewelry workshop where passion combines with creativity
advertisement
STORIES THAT HEAL. After 19 years of back pain, a man met the doctors who restored his mobility
Watch the latest VIDEO