The Racoș Geological Complex, Brașov County, is located halfway between Brașov and Sighișoara, in the Racoș Geological Complex. The place seems to be a movie set with a budget of hundreds of millions of euros.
The nature reserve has an area of ​​95 hectares and is located in the southeastern part of Transylvania (in the contact area of ​​the Baraolt and Harghita Mountains with the Perșani Mountains) and the northeastern part of Brașov County, in the immediate vicinity of the county road (DJ131A) which connects the village of Mateiaș with Augustin.
Emerald Lake from Racoș
Emerald Lake is located in the northeastern part of the Racoș Geological Complex and includes a geological section of the basaltic volcano 200 m long and over 50 m high. Color is greatly influenced by the weather, more precisely by the presence or absence of the sun.
The Emerald Lake is fed by precipitation, melting snow, but also by the bottom springs, identified since the exploitation of basalt. Forms of basaltic flows can be observed here, as well as a tectonized section of the volcanic-sedimentary covering formation.
The growth of vegetation in the lake and its population with fish by the locals have contributed to the formation of an aquatic ecosystem that can lead to the final destruction of the lake, a phenomenon similar to the situation at Lake St. Anne. Currently the maximum depth of the lake is approx. 18 m and grows annually by about 0.5 m – 1 m.
Extinct volcano from Racoș
The extinct volcano is known as the most recently active volcano in Romania, even though it last erupted many thousands of years ago. It is very close to the Emerald Lake, within walking distance.
It is not possible to visit it at this time, the location being rented to a film set, for the TV series "Django", starring Matthias Schoenaerts, one of the most spectacular European productions, with a budget of 40 million euros, the filming are scheduled to end in November.
The landscape you have when you visit the Racoș volcano is unique, it sends you thinking about the planet Mars. I had a similar feeling during my visit to the Muddy Volcanoes.
Following the eruption and cooling of the lava, slag, basalt and that porous rock called pumice were formed, a stone from which the inhabitants of Racoș built their houses. Racoș Castle is also built of pumice stone.
Basalt columns from Racoș
About 15 minutes walk from the Emerald Lake, we found the Basalt Columns, a natural monument special for its uniqueness. The height of the basalt columns is between 8-10 m. Basalt mining stopped in the 60's of the last century, when the site was declared a natural monument.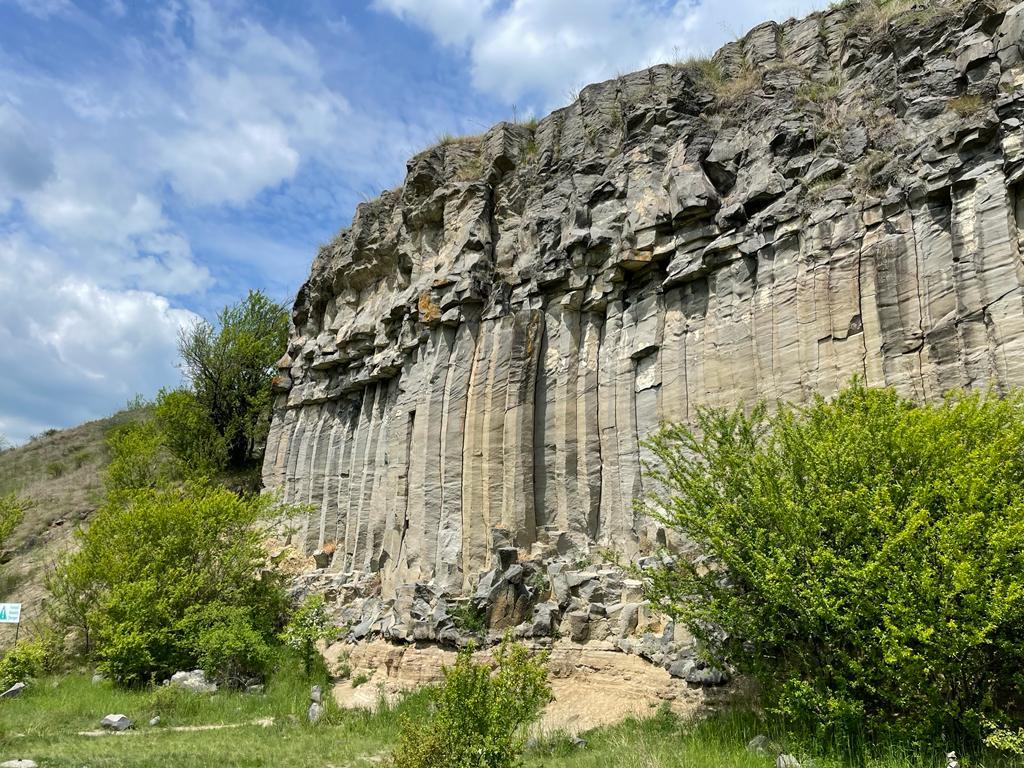 The basalt flows belong to the first eruption period in the Racoș area, which took place ago ccs. 1.3-1.4 million years.