According to the US Embassy, ​​the program is intended for students who want to experience and understand the people and culture of the United States.
In the years before the pandemic, about 7,000 young people in Romania went to the United States each year through Work & Travel. The figures place our country in the first places in the world in terms of interest in this program.
"They can support themselves financially, travel and stay there for 3-4 months, as long as the program lasts," a representative of American Experience told Free Europe.
It's a win-win situation, he says. "Employers need manpower during the summer, because then it's the tourist season, and students can only leave in the summer, when they have a college vacation."
The jobs offered by this program are generally in the field of hospitality – in hotels, restaurants, cafes, or even in amusement parks.
The effects of the pandemic
The number of Romanian students interested in going to the USA has decreased significantly since the beginning of the pandemic. According to the Embassy, ​​approximately 2,700 visas were issued in 2021.
"We hope that participation in the Work & Travel 2022 season will approach pre-pandemic levels, but the embassy's ability to conduct travel visa interviews will also depend on local conditions in Romania," the US embassy said.
Given the pandemic context, students wishing to participate in the Work & Travel program are advised to pay attention to the requirements of traveling to the United States.
Matthew had three jobs in Montana
Matei, a young man from Cluj-Napoca, always wanted to come to the United States.
He found out about Work & Travel in his senior year of high school and says he was so excited about the opportunity that he became interested in the first week of college how he could enroll.
"I went to the first agency that got in my way," he said.
The visit from the USA, from 2019, was among the first that the Romanian student made abroad.
Matthew worked as a waitress in a Montana hotel. After a few weeks and countless interviews, he took a second job, part-time, cleaning an office building.
Matthew lived in a Montana town during the summer.
For two weeks, at the end of the summer, Matei even had three jobs. "I would go home, take a shower, talk on the phone for an hour with my family and go back to work," he said.
Although Matei wants to return next year, he admits that the experience is not for everyone.
"It's a lot of work, you are away from home, if there is a problem you are on your own. Not everyone wants to get out of their comfort zone. "
Despite his fatigue, Matthew still fondly remembers his time in America. "At the age of 19, I boarded a plane and crossed the ocean. It was an achievement for me. It is an opportunity for anyone who wants to be independent and travel. "
Lavinia worked at a luxury hotel restaurant
Lavinia was persuaded by her friends to enroll in Work & Travel when she was in her first year of college. "It was an easy decision because I always wanted to visit the USA," says the 22-year-old.
Desiring to live on the East Coast with her friends, Lavinia chose to move to Atlantic City. He got there in 2019.
He spent three months working in a luxury hotel restaurant. "We also work 16 hours a day so that we don't have to take another job. I broke a lot of dishes. We were tired ", says Lavinia.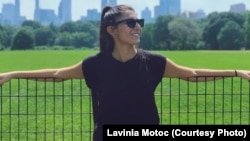 Lavinia has been able to visit several cities, including New York.
But unhappy was the accommodation, she says, because there were 30 students in a three-story house, and the conditions were not very welcoming. "The building was old, the showers weren't working all the time. I often went to take a shower at a nearby gym. "
Apart from three days in New York and a few visits to the cities near Atlantic City, the student did not travel much. "It simply came to our notice then. We wanted to come home with more money ", she says.
But Lavinia says she would not sign up again. "It was an interesting experience, I traveled, I met new people, but I would not participate. One time was enough. "
Dani surfed by the ocean
Dani, from Sibiu, says that it was an easy decision to enroll in Work & Travel. A friend recommended him a job in the program and, knowing that he was going to have a free summer, he thought of taking the opportunity and leaving for the USA.
He worked as a "special events attendant" at a cultural center in Rhode Island.
"We had to arrange the rooms according to a location plan, and during the events we changed into costumes and greeted the guests," says the 22-year-old.
Dani chose to spend the summer in a city in Rhode Island because it was by the ocean. "I was able to surf in my free time. Honestly, I didn't have much free time. "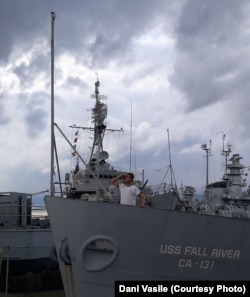 During the program, Dani visited Los Angeles, San Francisco and Seattle.
He admits that it was not easy, because he often worked overtime, but "it was a nice job, I spent a lot of time outdoors, it was a good work environment."
However, the accommodation was not ideal. "Five people were sitting in a rather small room, it was a little harder, but we finally got along."
During the program, Dani managed to travel through the USA. "I've been to Los Angeles, San Francisco, Seattle, I've traveled a lot through national parks, to Yellowstone, Glacier Park, Zion."
He says he would love to attend again. "I liked the experience, I liked that I managed to see a lot of places, I really had fun."
Anna Barabas is an internal Radio Free Europe.