The Yamal-Europa gas pipeline, which usually supplies Russian gas to Western Europe, was sending fuel back to Poland on Tuesday for the eighth day in a row, according to German network operator Gascade, quoted by Reuters.

The data showed that flows from the Mallnow measuring point, located on the German-Polish border, were heading east in Poland at an hourly volume of almost 1.2 million kilowatt hours (kWh / h) on Tuesday morning, down from about 2 million kWh during the night.
The pipeline is a major route for Russian gas exports to Europe.
According to the auction results, Gazprom did not reserve gas transit capacity for exports through the Yamal-Europe pipeline on Tuesday.
The pipe has been blocked for 8 days
Russian President Vladimir Putin said last week that Germany was selling Russian gas to Poland and Ukraine, instead of calming the market situation, blaming the reversal and rising prices on German gas importers.
The Yamal-Europa gas pipeline, which normally transports Russian gas to Europe, has been in reverse for the past week, sparking a dispute between Moscow and Western countries.
Instead of flowing to European markets, which are facing a winter fuel crisis due to very high prices, gas has flowed east into Poland and Ukraine, and Russia is blaming speculation by German companies.
Gazprom said Germany's resale of natural gas to Poland was unreasonable and dismissed allegations that Moscow had deliberately restricted its supplies to Europe.
Important information about Yamal
The Yamal-Europa gas pipeline is more than 2,000 kilometers long and brings gas from the Yamal region, rich in gas fields, in the Russian Arctic.
It passes through the city of Smolensk in western Russia, continues through Minsk in Belarus, then crosses Poland before ending at the Mallnow compression station, near Frankfurt an der Oder, near the German-Polish border.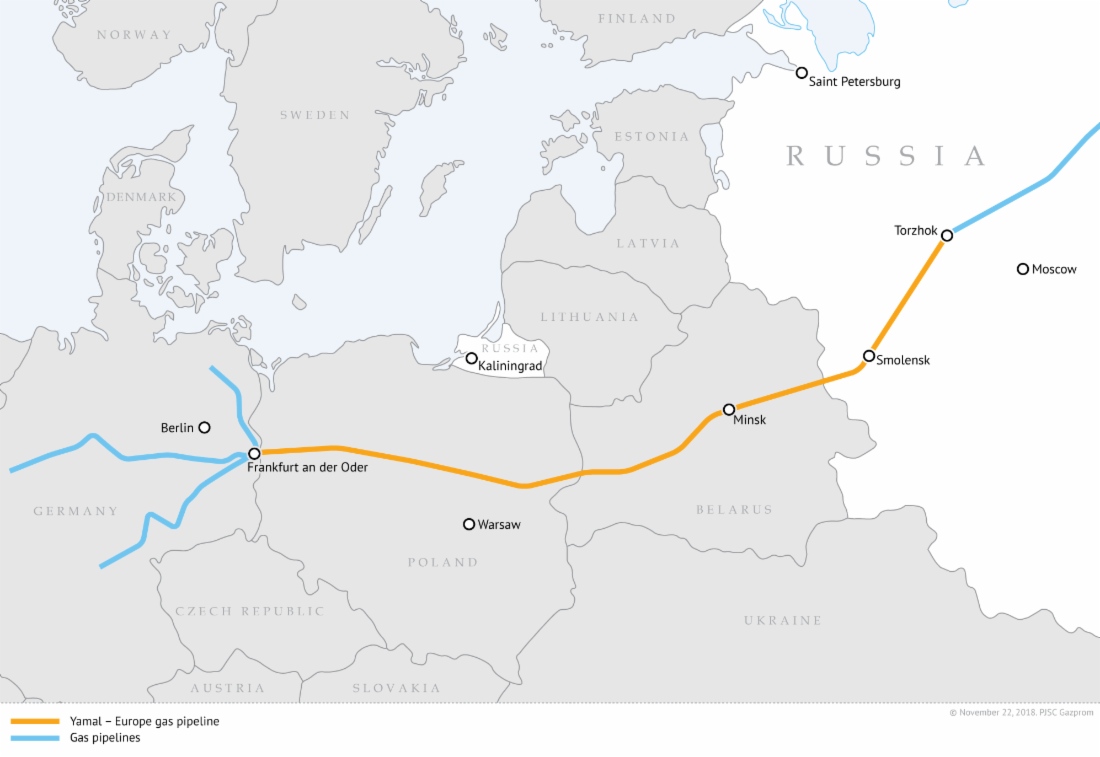 Construction of the pipeline began in 1994, and in 2006 reached a projected annual capacity of nearly 33 billion cubic meters, or about one-sixth of Russian gas exports to Europe.
Who owns the pipeline?
The Polish part of the pipeline is owned by EuRoPol Gaz, a joint venture of the Russian energy giant Gazprom and the Polish company PGNiG.
The German section of the pipeline is owned by WINGAS, a joint venture between Gazprom and the oil and gas company Wintershall DEA. Wintershall, in turn, is co-owned by the German chemical group BASF and the Russian company LetterOne.
A long-term gas transit contract between Russia and Poland expired in mid-May 2020. Since then, Gazprom has reserved short-term gas transit capacity through pipelines.
It has not reserved daily capacity since December 19, when the pipeline began to operate in reverse.
However, the companies with supply agreements stated that their contracts had been respected.
Sometimes Yamal goes in reverse
The pipeline sometimes switches to reverse mode when gas flows from Germany to Poland, which also happened in October.
This reverse means that there are no gas requests to Germany, which also receives Russian gas through the Nord Stream 1 pipeline on the bottom of the Baltic Sea.
Russian giant Gazprom delivers gas to Germany at lower prices than to Poland.
This complicates the gas trade, as the European Union has allowed gas re-exports that were previously banned by Gazprom.
Gazprom has agreed to drop its re-export clause in 2017 as part of an antitrust inquiry into its practices in Europe.
This effectively allows gas purchased at a discount from Russia from Germany to be sold to buyers in other profitable countries.