Christopher Braun is a German citizen, born in Hamburg, 30 years ago, after the reunification of the Germans from the west and the east. His mother left Ghana and wanted a better future in Europe.
The current right-back of Botoșani is integralist in all Moldovan matches in League 1. Strong and charismatic, he has already been targeted by the champions of the championship who are fighting for the title every year. He played in Germany, in the Netherlands and in Greece until arriving in Romania, at the beginning of autumn 2020, in our country actually revitalizing his career, after a period of free contract. In an English language with a strong German accent, Chris shared his impressions of Romania.
In Botoșani's shirt
Libertatea: – Chris, how is your life in Romania after more than a year in Botoșani?
Christopher Braun: – As a general picture, so far, great. Football is going well, I was in the playoffs last year, with a small team, I hope to catch the top 6 this season as well.
– How did you get to the north of Romania, in a city of 100,000 people?
– Reagy Ofosu, a very, very good friend, also a German, also from Hamburg, I was a colleague at the HSV academy, he played in Botoșani and he recommended my team after I finished my contract in Greece and I had no training. I talked to Marius Croitoru, he also saw some of my matches, he said to me: "If you want to come, come!". I came.
"I came to feel like a foreigner in Germany"
– Did you know anything about Romania?
– Only strictly football. As a child, I had heard of Steaua, Rapid, Dinamo, CFR Cluj, especially since there were matches with German teams between 2000-2001.
– Until we talk about the impact Romania has on you, how do you feel, Ghanaian, German, what?
"Let me give you a brief history!" My mother is from Africa, from Ghana, she came for a better future in Germany. I never met my father. The poor woman had to go through big problems, from the difficulties due to the visa, with permanent residence, finally difficulties. I was born in Hamburg, but when I turned one, he sent me to Ghana, where my grandmother and I raised two brothers. At the age of 7, I returned to Germany, where I went to school and received an education. To answer you, my feelings are mixed.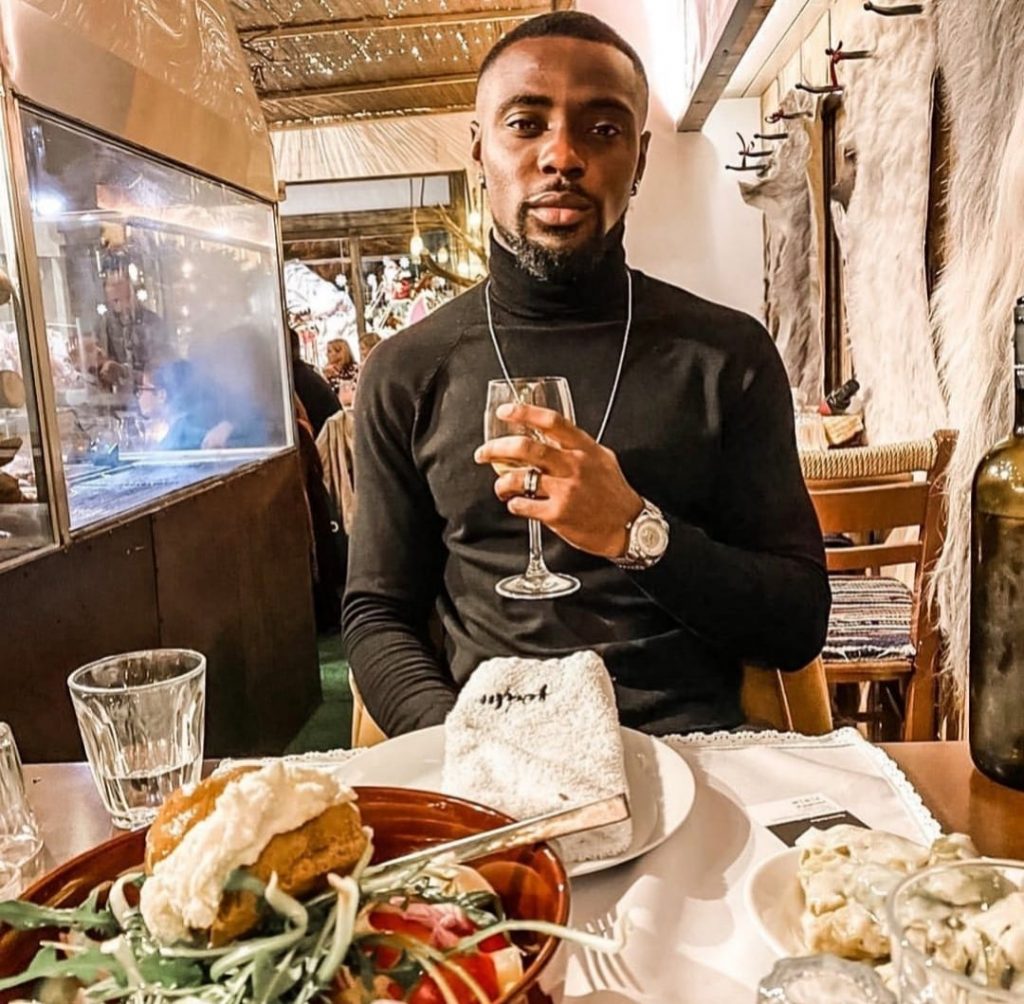 At a hearty meal
– Why? I ask you because in your situation there are other Romanians, for example, who grew up in Germany or other European countries.
– When I was younger, I recommended myself as a 100% German. But now, at 30, I realize I'm more Ghanaian than German. Why?! I realized that I only have 2-3 authentic German friends, my circle of friends is in Ghana. In time, I came to feel like a foreigner in Germany. Yes, I have one hundred percent German rights, but I feel more African.
"Even harder years will come, the future saddens me"
– What is life like in a pandemic in Romania?
– And to complete it, I ended up feeling more at home in Romania, in Botoșani, after a year or so, than in Germany. It's about feeling. In terms of life, even harder years will come. Honestly, I'm telling you. Let me ask you something! It's hard to remember what life really was like before 2020, is it? It all happened so fast and they just took your lifestyle. And those times will never return! You need a green certificate, you need a vaccine to do anything, to go to a store, to get to another country. In Germany, to celebrate New Year's Eve, you only need a maximum of four people in the same room. Really? The future is very sad, people do not think they are heading for a state of well-being. Honestly, we are just puppets in the hands of others, bigger, more important, we have to live by their rules!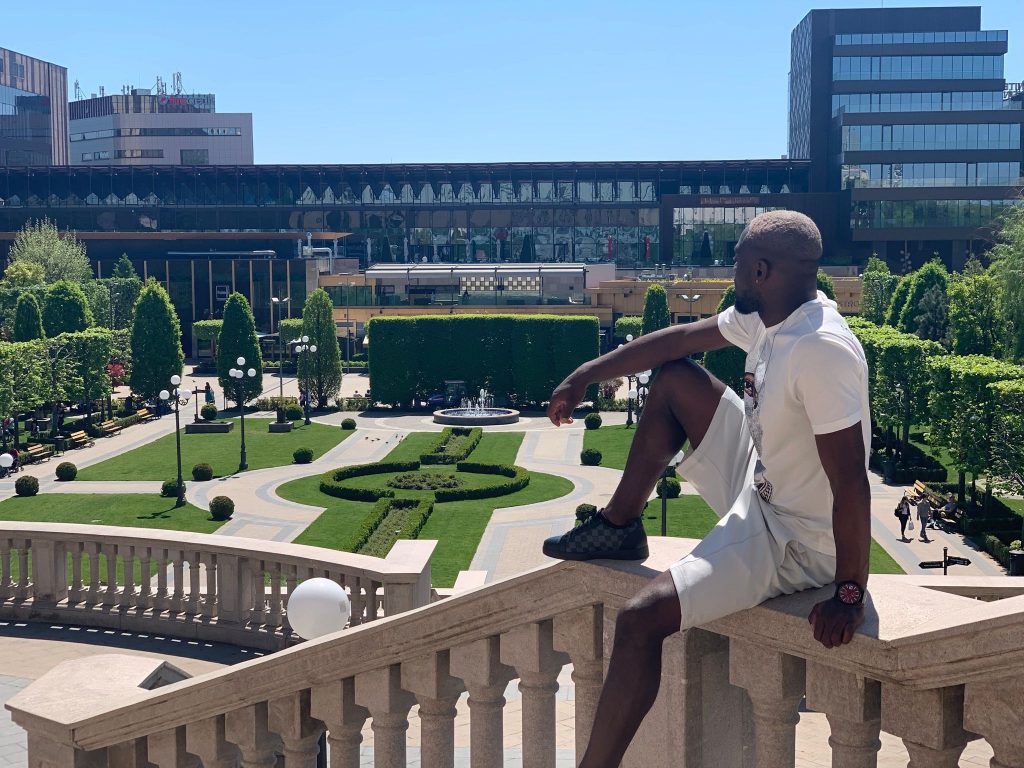 Visiting, in summer, his favorite city, Iasi
– Are you vaccinated?
– Yes. I believe in him. But why is the certificate only valid for 9 months, newer ?! I do not deny the pandemic, I believe in the vaccine, but I believe that we are at the mercy of the big ones, who make the laws according to certain interests. We are small, but if we gather more, then we become strong. OK, we're stupid, sorry if they offend, but if we tighten up, they can't lead us like puppets. Don't humiliate us! We have to live according to the rules, in the community, but not as it suits some. It's not about me, I'm saddened by the future I see for my 9-year-old daughter who lives in Germany with her mother. What will her future be like? I'm afraid to think! I am divorced from her mother, but we are trying to give her a normal life.
Life lesson: "You start life at the age of 30!"
– What is life like for you in Botosani?
– Simple. Football and home. Basically, like many Romanians, work and home. What else do you go out with, with whom and where? There are two or three restaurants in Botosani, that's all. Home, brother!
– Anyway, being from Hamburg, I think you adapted to the cold in the north of Moldova?
– Now, when I talk to you, it's 2 degrees Celsius, at 8.00 in the evening, but you see that the thermometer drops below zero by far, at night. But I'm used to it, in Hamburg if you have 10 days of sunshine in the summer you're the happiest. I'm used to this weather, even though I'm not a fan. I have a dog, my best friend, I don't move much, I stay at home, I watch TV, I read a book. It's the same routine in Germany and Romania. I'm a little bored, it's a joy to go to training. By the way, if you had a good time, where would you go? You are allowed, you are not allowed, with or without vaccine!
– How does a 30-year-old athlete feel in a foreign country?
– I came to remember New Year's Eve 2021 as if it were yesterday, as if it were last night. Time ran out immediately. At 30, I'm just starting my life, but I'm not allowed to be wrong anymore. The daily one, because I am in a moment of balance when it comes to football, I don't have much to play. My brother said a big word to me: "Up to the age of 30, you do what you want in life, but from now on!" That's right, between 20 and 30 years old you can try, everything is allowed. So I'm at an important time in my life.
"Romania means meatball soup for me"
– What do you like about Romanians?
– People are OK. Warm, friendly. I have not had any negative experiences. I found out that one of my favorite dishes of my life is meatball soup. Eduard Florescu and I, my colleague, drive for a while to a restaurant where excellent meatball soup is eaten. But it's OK. In Greece, in Crete, where there was Mediterranean food, I drove until I reached the mountains, to small taverns, where I served meat, cheese, my own wine from a producer. I'm not looking for five-star food, I'm looking for authentic food.
– What do not you like?
"It's really not a bad thing." Stay! It's one thing: the lack of highways! God, I did 30 miles in an hour. I can accept anything in this country, but have no way. Incredible! Rather than take the bus from Botoșani anywhere… God, a trip to Constanța or Arad, where we went for 13 hours, is awful. I once thought of a road like this: "Why the hell did I come here ?!" I wanted to run to the field. (laughs) Please don't enter Timisoara in the first division, otherwise I don't know what to do.
– A city that impressed you here?
– Iasi. It's really beautiful, remarkable. That center is great. You have something to do there, a different air, a lot of students, you feel life differently. I also have friends there. I was just in the center, I don't know more.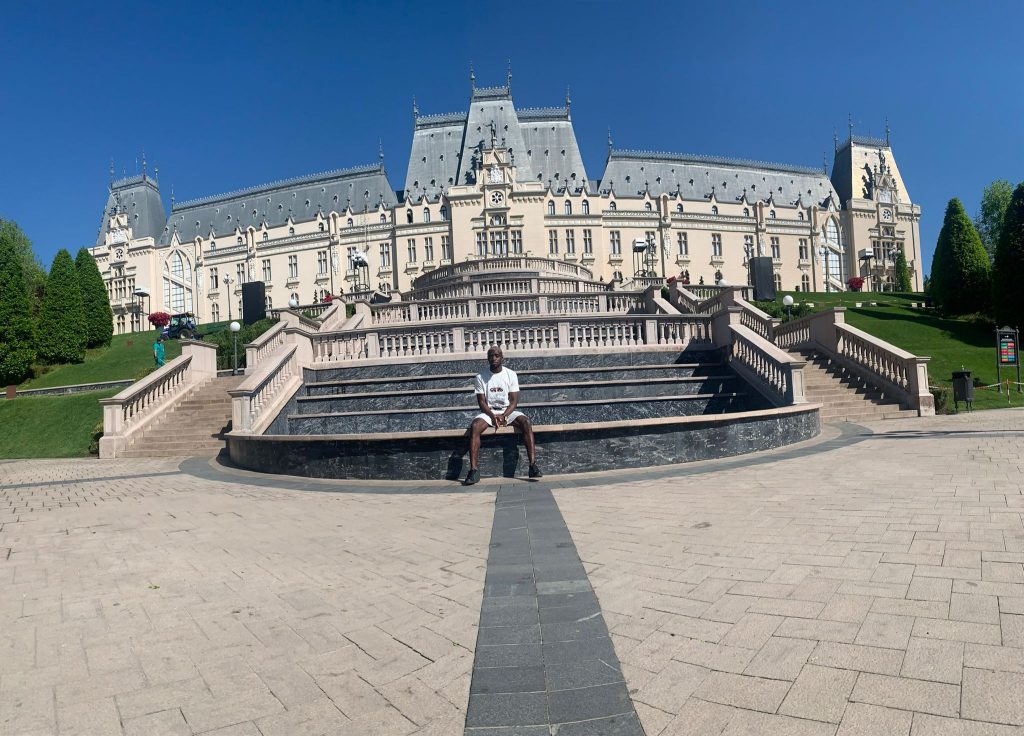 In front of the Palace of Culture in Iasi
– Have you seen Bucharest?
– I visited, privately. I understood that he was fighting for supremacy with Cluj, although I did not see this city. Bucharest is top notch, I like the vibe of the Capital, I like that it is noisier, that you have something to do. In Botosani, it's good for football, but you have nothing to do but this sport even if you don't have a business. If it weren't for football, I wouldn't have seen this city in my life.
Personal record: 20 donuts, one after the other
– What are you doing for Christmas?
– I'm going to Hamburg. I miss my mother's food, I want to make presents. We are Christians, evangelists. I can't wait for my mother to cook.
– You said you were staying with the dog, how do you manage?
"Look, now my food order is coming." Otherwise, I'm good at small things. Maybe I'll learn more someday.
– By the way, do you just like meatballs, nothing else?
– Papanas and donuts. Let me tell you a funny story! Before a workout, I ordered a bag full of donuts. I felt like I didn't know myself anymore! When she saw the coach, she went crazy! He was fixed before training, but I was very hungry.
– And which one do you like?
– The simple, small ones with powdered sugar. Do you know what my record is? 20 donuts, one after the other. But after that, I go to workouts to get down.
– In the end, what do you want for 2022?
– I still dreamed of entering the era of health, of getting rid of the pandemic, of restrictions. Otherwise, what to plan? It's hard to look too far in life, I live every day. Every day is a plus. If you go to Africa, you won't come. Our lives have become restricted. I would ask, "What are you letting me do? To know where I'm going on vacation. " Or as far as I'm allowed to go. Happy birthday to you too!
PARTNERS – GSP.RO
As Gigi Becali's new business looks like: "We will make hundreds of millions of euros!" »The first images have appeared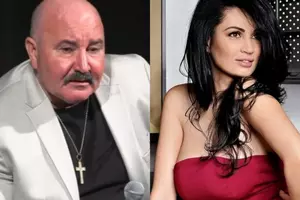 Playtech.ro
BOMB! Nuțu Cămătaru, shocking relationship with Nicoleta Luciu: 'He was also at Sile and …'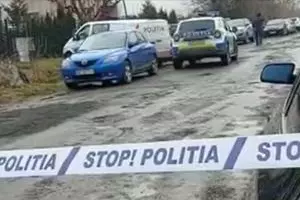 Observatornews.ro
Horror Movie: Two Medical Students Killed and Burned in Luxury Luxury Villa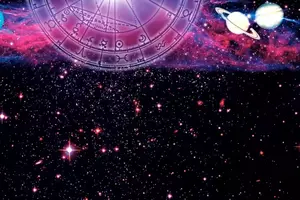 HOROSCOPE
Horoscope December 12, 2021. Lions must give in to the desire to adhere to ideas superior to those they have espoused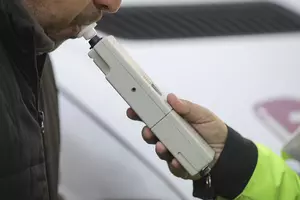 stirileprotv.ro
Can you be fined if you have a blood alcohol level below 0.1? The police response. Many drivers do not know this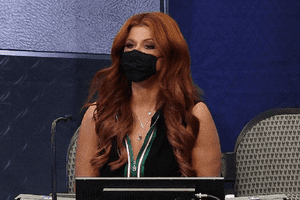 Telecomsport
Famous TV presenter, fired after humiliating a colleague. What could he say. Her show is off the grid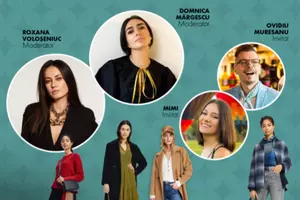 advertisement
Tommy Hilfiger Live Shopping: Online shopping at the next level
Watch the latest VIDEO