We received the sad news of the death of our colleague Edelina Stoian. Edelina came to Radio Free Europe, Munich, in the news section, in the late 70's. She had worked for the BBC, the Romanian section, before.
A high-class "journalist" and an unforgettable voice. The late historian Vlad Georgescu, the director of the Free Europe editorial office for Romania, said – or was said to have said – that Edelina "can keep you connected to the radio even if she reads the Communist Party's program".
Radio Free Europe, the last day in the Munich studios, Horia Costescu and Edelina Stoian, June 4, 1995
In the summer of 1995, Radio Free Europe moved from Munich to Prague, and Edelina and Mircea Carp made the last broadcast in Germany. Then it wasn't "The End", as it says in the picture, but for Edelina, the end of the road has come, for her, here it is – on December 3, 2021, in Munich, Germany.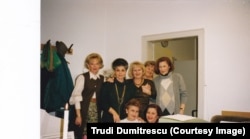 Radio Free Europe, newsroom (part): Ioana Măgură-Bernard and Lizica Cunea (front), Anișoara Popper, Edelina Stoian, Trudi Dumitrescu, Vroni Brunner, Munich, Germany, 1994/95
He collaborated with the Cultural Observatory magazine and from his articles and writings he captures the love of life, humor and an extremely acute spirit of observation.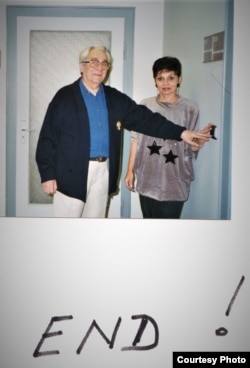 Edelina Stoian and Mircea Carp. Last day at the Free Europe headquarters in Munich.
We will fondly remember her, as all our former colleagues we have lost over the years have remained with us in our thoughts.
Radio Free Europe Moldova