For several days now, Western espionage has become increasingly convinced that Vladimir Putin is trying to break a piece of Ukrainian territory. Moreover, the head of Ukrainian military espionage advanced, in an interview with the Military Times, even the date on which Russia would prepare such a force attack, which would involve blows, air, artillery and armor: "end of January or beginning of February 2022. Moscow's increasingly belligerent attitude must also be seen in the light of the new US National Security Strategy, which President Joe Biden will present to the US Congress in December. This document could also include an important chapter dedicated to Washington's military strategy in the Black Sea region, said for digi24.ro, the military analyst Claudiu Degedere, expert in national security and defense policies.
Since the beginning of November, the news has been cascading: the moon has begun in force, with satellite images showing massive concentrations of Russian troops and military equipment on the border with Ukraine. This was followed by an announcement by the Ukrainian Defense Ministry that Moscow already had 90,000 troops in the region. A few days later, a warning came from NATO about the "unusual concentration" of Russian troops on the Ukrainian border. Last week, Russia sent another regiment of paratroopers to the area (about 1,000-2,000 soldiers).
The result: Moscow currently has about 92,000 troops massed on the border with Ukraine. US intelligence experts have warned their allies of a possible Russian incursion into Ukrainian territory, increasingly confident that Vladimir Putin wants to take control of an even larger part of Ukraine.
Satellite images of Russian military equipment massed near the border with Belarus and Ukraine. Photo: Profimedia Images
A conflict seems, at this moment, "imminent". And the head of the Ukrainian Military Intelligence Agency has even set a deadline for this "imminent" attack: Russia is preparing an attack on Ukrainian territory by the end of January or the beginning of February.
Hybrid warfare, conventional warfare, with tanks and planes, or a huge game of chess in which soldiers are moved like pawns on the board?
"This" imminence ", as a temporal element, in which an exact date can be predicted – day, week, or month – is quite vague, in the case of Russia," analyst Claudiu Degedere, security expert, told digi24.ro national and defense policies.
Basically, the military analyst points out, Moscow is primarily sending the message that the Russian military is able to maintain a permanent fighting capability on the border with Ukraine.
"It doesn't matter if it's January or February, the idea is that the Russians can deploy their troops quickly. Russia has the Permanent Combat Service: strategic forces that are always on a very high alert level and that are capable of intervention in less than 24 hours ", said Degeru.
The defense policy expert also shows how the term "intervention" should be translated when we talk about Russia.
It can mean a hybrid intervention, in which you have paramilitary forces or special forces, which benefit from classic military support, or it can mean a conventional intervention, with regular troops, heavy fighting technique.
"Such an attack would probably involve air strikes, artillery and armored offensives, followed by airstrikes in the east, amphibious attacks in Odessa and Mariupol, but also a brief incursion into Belarus," said General Kiril Budanov, head of Ukrainian military espionage. Military Times publication.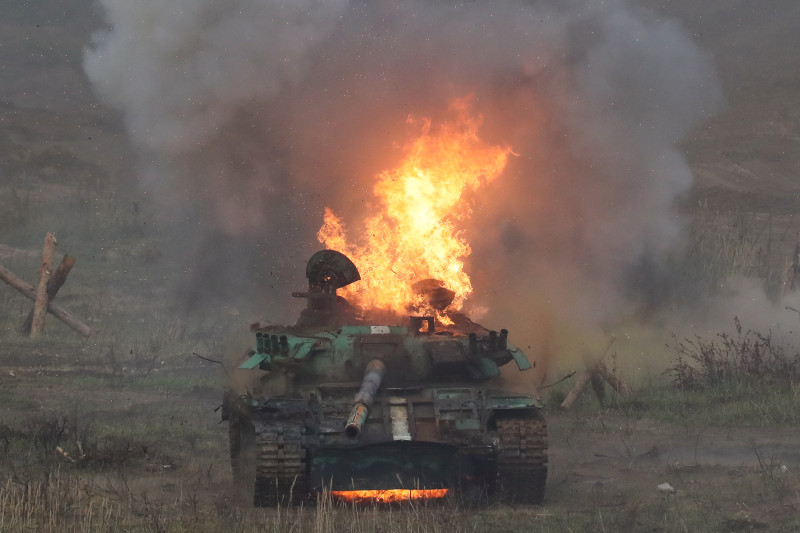 Destroyed tank, used as a target in the Zapad-21 military exercise, organized by Russia and Belarus in September 2021. Photo: Profimedia Images
According to Bloomberg, the American intelligence services presented to the NATO allies several data, including maps, which show that the Russian troops would invade Ukraine through Crimea, the common border with Russia but also through Belarus. The attack was allegedly supported by 100 battalions – around 100,000 soldiers – a large offensive operation in winter, carried out in difficult terrain conditions and extremely low temperatures.
"Most likely this will not happen," said Degedere, referring to the possibility of a "conventional" scenario in which Russia would invade Ukraine according to the doctrine of a classical war. "It's hard to back up with arguments like that."
The Ukrainian Defense Minister believes that Vladimir Putin is "playing chess" with the West and using Ukraine as a chessboard.
"He (Putin) is testing the homogeneity of the European Union and how united NATO allies are. It tests our society, it tests the Ukrainians, the Poles, it tests the Baltic countries, "said Oleksi Reznikov, the Ukrainian defense minister, during a visit to Washington where he met with his American counterpart, US Secretary of Defense Lloyd Austin.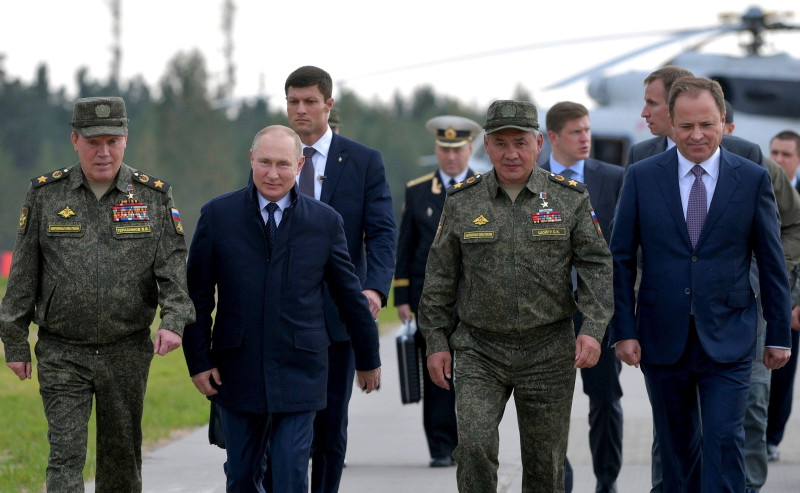 Vladimir Putin, together with Russian army officials at the Zapad-21 military exercise organized by Russia and Belarus near the NATO borders, September 2021. Photo: Profimedia Images
Russian secret services mock Western ones: You won't see "hordes of Russian tanks crushing Ukrainian cities"
Russia's Foreign Intelligence Service (SVR) has denied allegations of Moscow's intention to invade Ukraine.
"Americans are drawing a frightening picture, with hordes of Russian tanks crushing Ukrainian cities and claiming that they would rely on reliable information in this regard," reads a press release issued by SVR – an intelligence service that rarely goes public with such statements, notes The Moscow Times.
SVR claims that the US is launching "absolutely false information" about the concentration of troops on Russian territory, in order to invade Ukraine.
Kremlin spokesman Dmitry Peskov called the West's accusations against Russia a "hysteria":
"Any movement of Russian troops within the borders of our territory poses no threat to anyone and should not worry anyone."
Russia accuses Ukraine of invading the Donbas. Ukrainian Foreign Minister: "We are witnessing an increase in Russian misinformation"
At the same time, Ukraine's foreign minister, Dmitro Kuleba, condemned Moscow's false accusations that Kiev was plotting a military attack on the Donbas.
"We are witnessing an increase in Russian misinformation, including false accusations that Ukraine is plotting a military attack on the Donbas. Let me say officially: Ukraine is not planning a military offensive in the Donbas, "the Ukrainian official said in a post posted on Twitter.
"We are dedicated to finding political and diplomatic solutions to the conflict. Ukraine continues to make significant efforts to revive the Normandy format, with Germany and France as mediators. We call on Russia to engage constructively in these peace efforts instead of undermining them.
At the same time, Ukrainian diplomacy continues to work to strengthen Ukraine's defense capabilities to prevent and discourage Russia from other aggressive actions, "Foreign Minister Dmitro Kuleba said.
Ukraine's stake and Vladimir Putin's "turning point"
The United States promised Kiev additional military aid in September in the conflict with pro-Russian separatists and expressed its "firm commitment" to Ukraine's territorial integrity. The White House has announced a $ 60 million security assistance package for Ukraine.
The package includes Javelin anti-tank missiles and other "lethal and non-lethal" military defense capabilities that would allow Ukraine to "defend itself more effectively against Russian aggression."
"Ukraine is trying to speed up the establishment of a strategy for the presence of US military forces in the region. See the signing of the Strategic Partnership between Ukraine and the USA, signed a few months ago ", Degedere explained.
And the Russians anticipate this and try to discourage Ukraine by maintaining pressure on the border.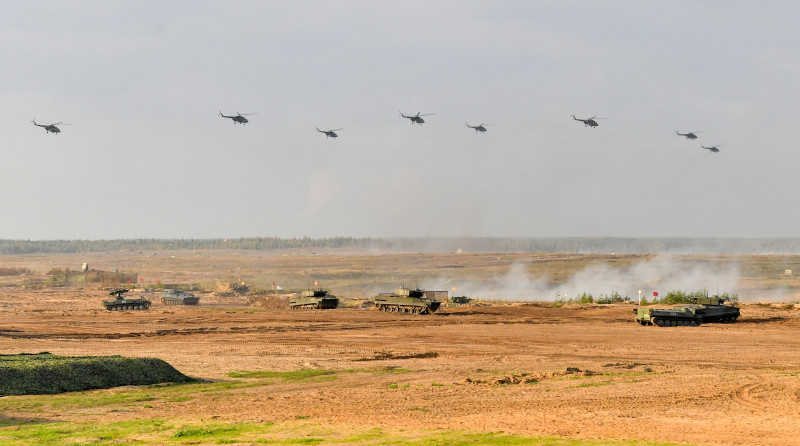 Military maneuvers during the Zapad-21 exercise, organized by Russia and Belarus in September 2021. Photo: Profimedia Images
"At the end of the year, US President Joe Biden will come to the US Congress to present the new National Security Strategy. The question is whether there will be a chapter on Ukraine and the Black Sea in this strategy. The Russians anticipate this and put pressure on the US, in the hope that this chapter will not be included in the Strategy ", said the security policy expert.
Moscow's rhetoric: we will keep our troops and climb the military, if necessary. "It's a Russian-style rhetoric, with a message like 'Here's what you'll face if you don't calm down,'" said Claudiu Degedere.
Or, as Ukrainian Defense Minister Vladimir Putin put it, he is currently at a "turning point" in which he will decide which path is best to follow: "burning bridges" by crossing the border with Ukraine or make this foothold demonstration between conveying a message and making a profit from this crisis.