Romania could register an economic growth of approximately 26 billion dollars by 2040, and the pressure that health problems put on the Romanian medical system could decrease by up to 36% in the next 20 years if massive investment is made in in the field of health, according to a report by the McKinsey Global Institute, which conducted a detailed research to identify those indicators that can improve the health of Romanians and subsequently calculated the social and economic benefits that may result.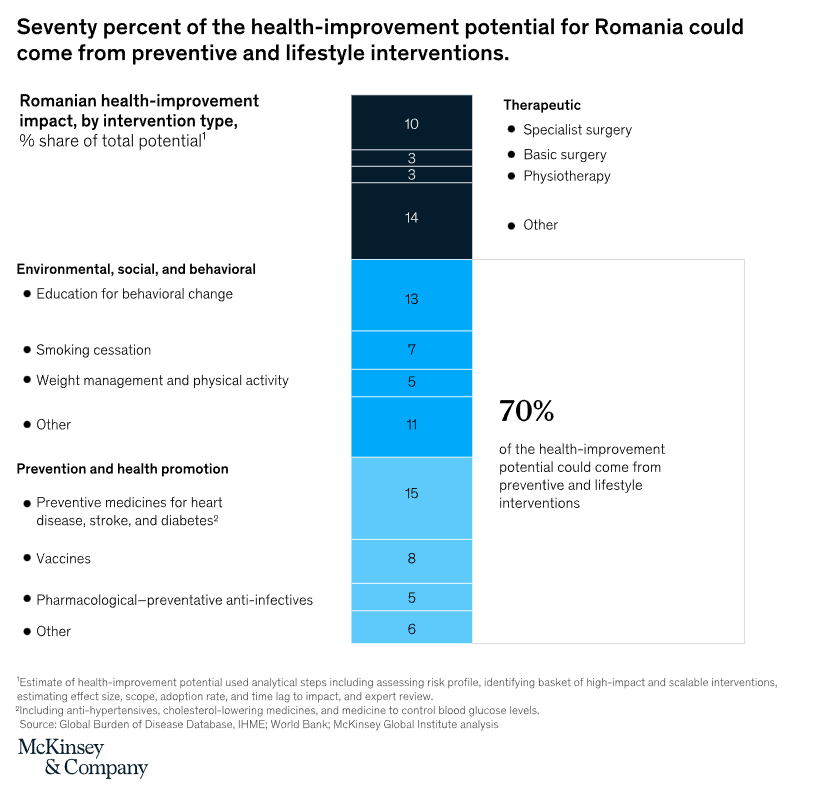 Better health of the population could mean an economic advance of about $ 26 billion by 2040, so a total increase of 9% and 0.4% annually. Almost half of the economic benefits could result from greater involvement in the labor market, a tremor from declining health problems, while the rest could result from increased labor productivity and lower premature deaths.
Romania's population tends to age and decrease, with an average age of 43 years, ten years more than in 2000. While the birth rate has decreased, the death rate has increased, positioning Romania as one of the countries with the highest average mortality in Central and Eastern Europe. Approximately 57% of deaths are caused by cardiovascular diseases, which occupy the first place among the cause of mortality of Romanians.
About 63% of those with problems due to poor health (including morbidity and mortality) are in the active population – which is an additional risk to the country's economy.
The pressure posed by diseases for the medical system in Romania could be reduced by 36% in the next 20 years through the wider use of already known methods, such as the administration of vaccines, the adoption of healthier habits, the extension of access to primary health care and improving access to prescription drugs. In the case of cardiovascular disease, this pressure could drop even more – by 39%. A detailed and easily accessible national health strategy, including policies to reduce cardiovascular disease, could help address this issue.
"Transforming the health sector at the national level is a challenge, as past reform efforts have shown, but the measures taken in the COVID-19 crisis have shown that rapid change is possible when needed. If it created a national health strategy focused on prevention rather than treatment, Romania could build on these changes and make health a priority for all – individuals, companies and governments, "said Alexandru Filip, Managing Partner of the McKinsey & Company office in Romania.
At the same time, focusing on methods that have proven successful in the health field could bring an additional benefit of $ 1.70 for every dollar invested in the Romanian economy. Implementation costs could be more than offset by productivity gains in the provision of medical services, according to MGI research:
"The idea that health can be an investment in economic performance, rather than a mere cost, has been largely absent from political discussions in recent years. Facing the pandemic gives us a unique opportunity to acknowledge this and take action. necessary to promote both health and prosperity on a large scale. Romania cannot afford to miss this opportunity ", added Alexandru Filip.