Tour operator G2 Travel, one of the world's largest travel companies in the world, closed its office in Bucharest and suspended the employment contracts of about 250 employees, citing financial problems caused by coronavirus.
READ ALSO COVID-19 and labor relations – real challenges for companies
The company, represented in Romania by the company Global Compass Ro SRL, has 365 employees on the local market, and around 250 of them have been announced that, from Monday, they will not be able to return to work. Dissatisfied, dozens of employees came to the company's headquarters on Monday and Tuesday to ask for explanations, shows Digi 24.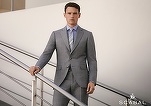 READ ALSO SARTO: the authentic workshop that shares the secret of choosing the perfect suit
They were notified via WhatsApp that their contract was suspended. This means that they will not work and will not be paid, because they are not technically unemployed either.
The company relied on force majeure and unforeseen economic situations. Offices in Hong Kong, a city affected by the coronavirus that has spread from China's Wuhan province, and Bucharest have been closed.
Initially, almost all employees in Romania would have been affected, but, following a "capital injection", some of the employees will continue to work, in order to ensure the crisis situations that could appear for the clients already on vacation.