While more and more countries want to ban so-called "non-essential travel" because of the danger of the spread of new strains of coronavirus, people around the world continue to go on holiday. Under these conditions, "travel shaming" was only one step away.
"Why don't we ban travel altogether?" Angela Merkel asked a few days ago in a meeting with the leaders of her ruling CDU party in Germany.
"The danger posed by the many mutations in the virus is forcing us to consider drastic measures, including reducing air travel to Germany to almost zero, as Israel is currently doing," German Interior Minister Horst Seehofer told Bild newspaper.
The positions of German leaders come in the context in which other governments have already taken action and stopped the so-called non-essential journeys, for fear of new coronavirus mutations much more contagious than before.
In fact, in the European space, things seem to be moving in this direction, even if, at the official level, the European Commission is trying to persuade states not to take unilateral decisions in this regard. The Commission's balanced position can also be explained by the fact that, in addition to the need for health security, there is also huge pressure from the tourism industry, especially the airline industry.
A concept that did not exist until 2020, the "non-essential journey" has become in recent days a kind of bau-bau of Europe. To make a comparison, perhaps the "asymptomatic" from the beginning of the pandemic, that is, the person who does not show the signs of the disease but can pass it on, has sparked as many discussions as the "non-essential traveler" does today.
If you do not have a specific job, ie you do not go to work, to the hospital or to visit any relatives in need, then you should stay at home. Tourism, holidays? They can wait. That's about the idea that is transmitted to us on all official and unofficial channels.
And I could not go on without mentioning Pope Francis, who, immediately after New Year's Eve, on January 3, criticized the people who traveled for the holidays:
"They did not think about those who stayed at home, about the economic problems of many people who were hit hard by the lockdown, about the sick people. (They thought) just how to go on vacation and have fun. Reality saddened me, "the pope said.
The truth is that people continued to ride, go on vacation, and during the pandemic. The charters that go to the Maldives, including Romania, are always full, and this can be confirmed by any travel agent.
Also, there are many Romanians at this time in Tenerife, Zanzibar, Mexico, Egypt and others in exotic or less exotic countries, who have greatly relaxed their travel conditions, precisely out of the desire to keep their tourism industry on track. waterline. Or, more precisely, to control his losses.
You can understand, moreover, the decision of such states: In the Maldives, for example, tourism represents 66.7% of GDP, that is, more jokingly more seriously, you might ask yourself "how could this still exist? country without tourists? ".
"The planes are full, you should think quickly if you want to go somewhere in the near future," a friend from a travel agency told me the other day when I asked him what else he was selling this winter, in the conditions under which all people are urged to stay at home.
An important clarification here would be that the expression "planes full of tourists" must be correlated with current times. For example, according to Eurocontrol, on January 21 there were 9156 flights in the skies of Europe, but this represents only 36% of the flights in the same period in 2019.
Fewer flights, easier to fill planes with people. And the reality is that the situation will continue in the next period. In fact, according to all estimates, before 2024 the global aviation industry has no way to recover to the level before the pandemic.
But going back to the essential versus the non-essential journeys, the discussion is not only in Europe, but all over the world. In the United States, Americans who flew on Thanksgiving Day had the so-called "travel shaming" on social media because it would have contributed to the spread of the virus.
"Yes, people are traveling for the holidays. Stop shaming them, "Professor Aaron E. Carrol wrote in a New York Times editorial calling for an agreement:
"Many do not meet our 'safety standards' because they simply have no choice. Many people cannot work from home. Many have no choice but to travel by public transport. Many do not have a yard to socialize with others (so they have to leave home to socialize) ", said the author in an attempt to prove that people are in a hurry to judge others, although I do not know much about them .
CNN Travel wrote about "travel shaming" as another trend of the year and recalled the case of Sarah Archer, a digital nomad from Boston, who faced criticism on social media for her decision to leave for several European countries during pandemic.
What do Romanians who made non-essential trips during the pandemic say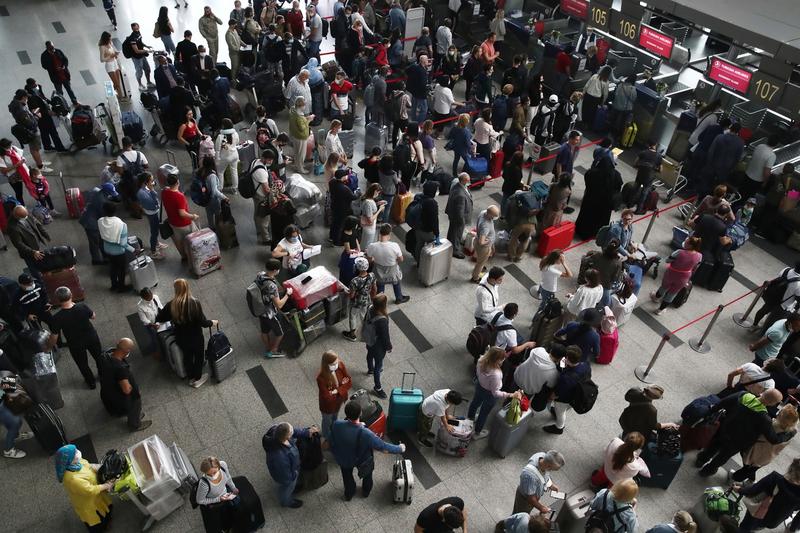 PHOTO: Sergei Fadeichev / TASS / Profimedia. Moscow Airport (August 2020)
I also talked about "travel shaming" with some of the Romanians who traveled in a pandemic. I asked Cezar Dumitru, from the Imperator Travel website, who is currently in the Maldives (and does not shy away from showing it on Facebook) if he was criticized by others for not following the recommendations to stay home. :
"Very few have told me anything, but I have seen other bloggers complain. Personally, I am in a risk group, but I think that as long as you avoid, follow the rules and go to regions with a low degree of infection, in countries that require PCR testing, and follow some simple rules, the risks are small. Plus, every time I came home I unofficially isolated myself for seven days, and on the plane I wore an FFP2 mask and / or visor ", Cezar Dumitru told me.
The blogger also told me that although lower population mobility decreases the number of infections, "travel helps mental health."
The writer Raluca Feher also traveled during the pandemic, the last time in Beirut. Raluca Feher believes that dividing travel into essentials and non-essentials is a "mess":
"If the joy of man in life is to travel, then for him it is essential. Could I also say, for example, why are gyms open? You can get infected in a gym. Those who want to do sports could run around the block, why not? "
Regarding the criticism of those who travel in a pandemic, Raluca Feher says that, in some situations, there is a lot of hypocrisy: they complained that they had arranged nothing to go somewhere for the holidays. And the lady, although she was going to go to an exotic destination in five hours, started to argue with the young people that "not everyone has to travel, what's the problem?"
The writer Petronela Rotar says that she went to Africa for two months, from where she kept a travel diary, both photographic and written, on her own blog "precisely in order to show another world to those at home, to give them the courage to color their days. There were a lot of people who read and watched me with great interest and curiosity, precisely because it was a breath of fresh air, even so virtual, between the news about the disease ".
The writer says that there were also "very weak and few voices who said that I could have done this at home, without arguing. Or that it is not true that I am there and they are at home ".
"As long as you travel legally, with all the precautions imposed, I think it is everyone's right to deal with his life, time and money. I have traveled this way, and my choice has not affected anyone. I had gone through the disease, I followed the quarantine, the rules. If there is a restriction in the future for non-essential travel, I will respect it, of course, because it means that it is for the good of me and everyone else.
But if it is allowed, I will continue to travel where it is allowed. I think it's up to the specialists to decide if we are allowed to travel, not to the people on Facebook or Twitter ", says Petronela Rotar.
At the same time, there are many countries in this world that are in great need of tourists. "I spent two months in Tanzania at the end of 2020. Those countries depend on tourism – they are poor countries, which they support. And we need to get out, for our mental health. "