Lake Sf. Ana is indisputably the most famous tourist attraction in the Covasna – Harghita area. By the way, I also visited it, but many years ago, more precisely in 1997 when I was here for a training at the hotel in Balvanyos (I understood that it still exists and has been rehabilitated). I remember it was a golden autumn, with incredibly many colors and I walked along the lake – which is not big, but it's nice.
Lake Sfanta Ana is the only volcanic lake in Romania, it is practically at the bottom of the crater of an extinct volcano some time ago called Ciomatu Mare. Well, it can never be extinguished, especially since it erupted relatively recently (about 40,000 – 50,000 years), but from the period it is monitored it is extremely quiet. It has no springs of its own, so it feeds only on rainwater, so it has an extraordinary purity – close to that of distilled water. Despite the fact that it is "fed" only by precipitation, it is curiously deep – the maximum is 7 meters.
The road to St. Anne's is through a picturesque forest. Obviously, with eyes as big as onions for bears, but I didn't see any, so I arrived at the tourist center after a mandatory stop I could say in a place where you can see a good part of the Harghita depression. At the tourist center, everything is excellently organized – a parking lot, information center (where you can get tickets) and you can buy food. Here, both Berea Ciuc and Csiki Sor live peacefully on the same shelf :). But here, I discovered something absolutely surprising – Tinovul Mohos. And I, like everyone else, knew and came to Lake St. Anne, well, two steps away is the Tinovul Mohos, I repeat, a surprise for everyone. You do not enter here as you want, but only with a guide that honestly, is mandatory.
The walk through Tinovul Mohos reminded me of a tour from a few years ago through an equally enchanting forest in Estonia. Tinovul Mohos is practically a developing peat bog. There was a volcanic lake here, but the eruption of the neighboring volcano covered the water with ash, and later sediments began to appear. Obviously, the vegetation that covers any place he finds free has begun to settle – whole generations of trees, shrubs and grass have grown and decomposed, covering the old lake – now there are ponds and water holes here and there, but in order to walk safely you only have to step on the installed wooden floors. If you jump here and there, you can sink more or less into the soft and unsettled soil. Here, coal deposits will form for many millennia, but by then, the fossil fuels that have completely changed the face of the world will already be extinct… or who knows J.
It's a flour walk on wooden floors. Some of the trees have recently died due to rebellious beetles and their rather sparse trunks, devoid of any vegetation, reinforce the idea that you are in a strange world. Cotton, but also the lakes, this land where it is dangerous if you step on it (the danger varies between soiling your shoes with mud until you get bogged down in peat bogs) make Tinovul Mohos an absolutely fascinating world that you must visit if you find out about the area. Honestly, I was glad to return to Lake St. Anne after 24 years, but I left fascinated especially by Tinovul Mohos!
We then descended on the other side, to Lake St. Anne. For the elderly, sick or with locomotor problems, there is a van that transports tourists for free to the lake shore which is also very well organized – you can also take a kortos and row by boat on the lake. Bathing is prohibited. Obviously, you can walk along the lake, inhaling the fresh air and enjoying the scenery. The local guide told us that the risk of meeting a bear during the day is minimal, but after dark, when the park closes, the local Santa Martinis appear in the area. Interestingly, there are extremely many fish – strange for a lake that does not communicate with any other stream or river and without springs. The reason is simple – they were thrown into the lake by someone to multiply and fish, ruining the ecological balance established for centuries or millennia. I don't know if they will try to remove invasive fish from the water, but it would probably be a good idea.
A big plus was that on this trip I was with Levente, the chief ranger (I don't know what the job is officially called, I think the executive director) from the reservation. Bringing a little with Fidel Castro in his youth, man is a combination of all-knowing in terms of nature, but also how to manage such a natural site – it's a fine art to find the balance between keeping tourists open, making money to reinvest in protection, you would draw and implement a marketing strategy, but also to protect. Obviously, there are plans for the development of camping accommodation, but also many others. Levente is a guy who should probably be cloned to take care of the many natural sites in this beautiful Romania, but so little visited and protected. Because there is a very fine balance between protection and visiting… and at least until now, I clearly had the feeling that in St. Anne – Tinovul Mohos was found. If you need an excellent guide for St. Anne and not only, you can contact him here.
Note
I was in Covasna at the invitation of the first glamping site in the region – My Lake Glamping. For more information on the experience, take a look at my article on My Lake.
On one foot ai
On the way to Lake Sfanta Ana, a beautiful panorama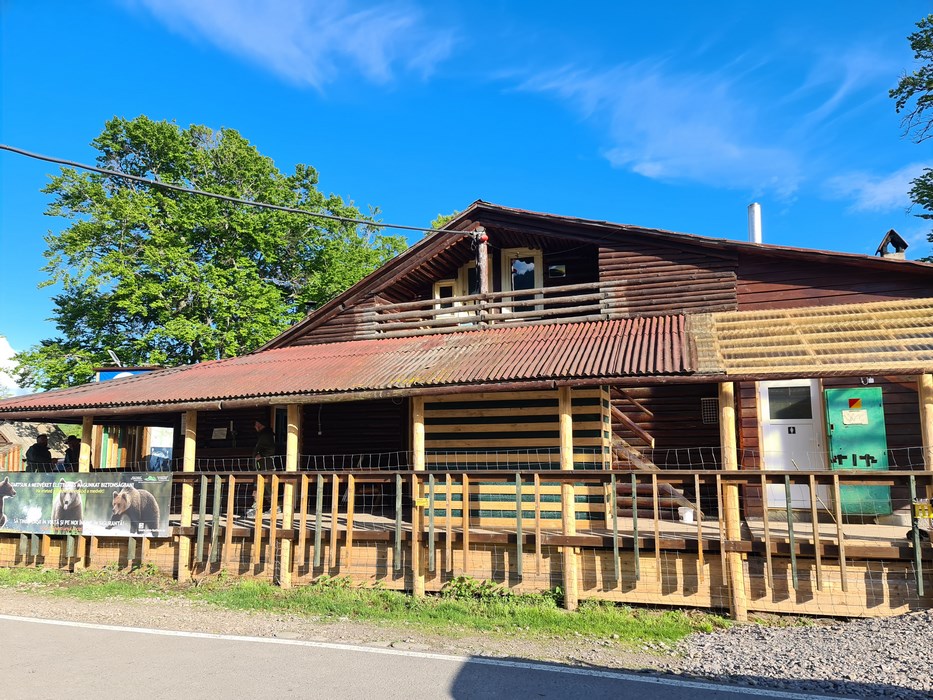 Tourist center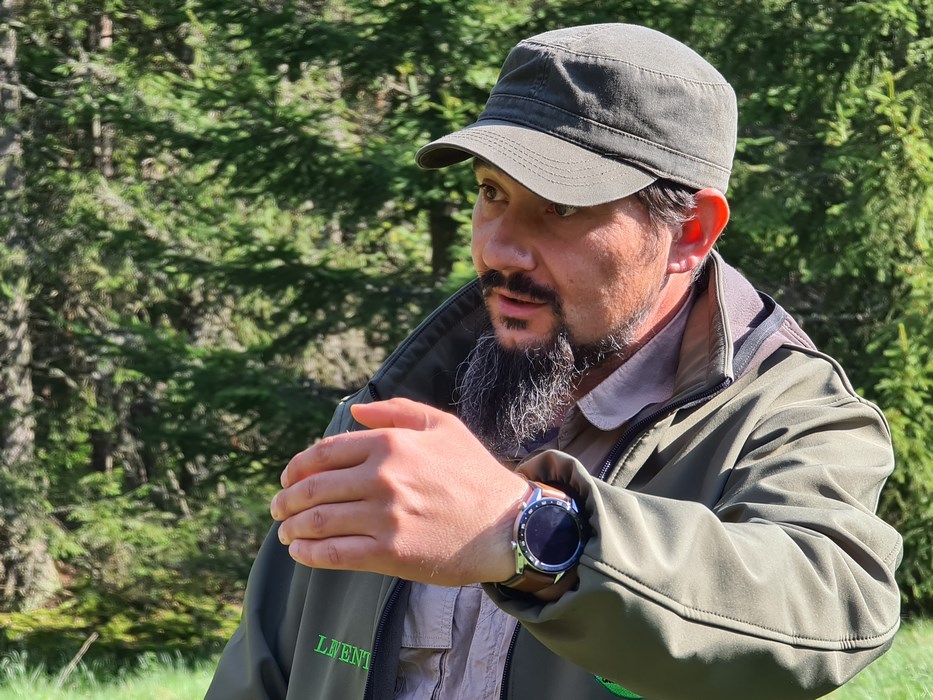 Levente de Sfanta Ana, bringing a little with young Fidel Castro 🙂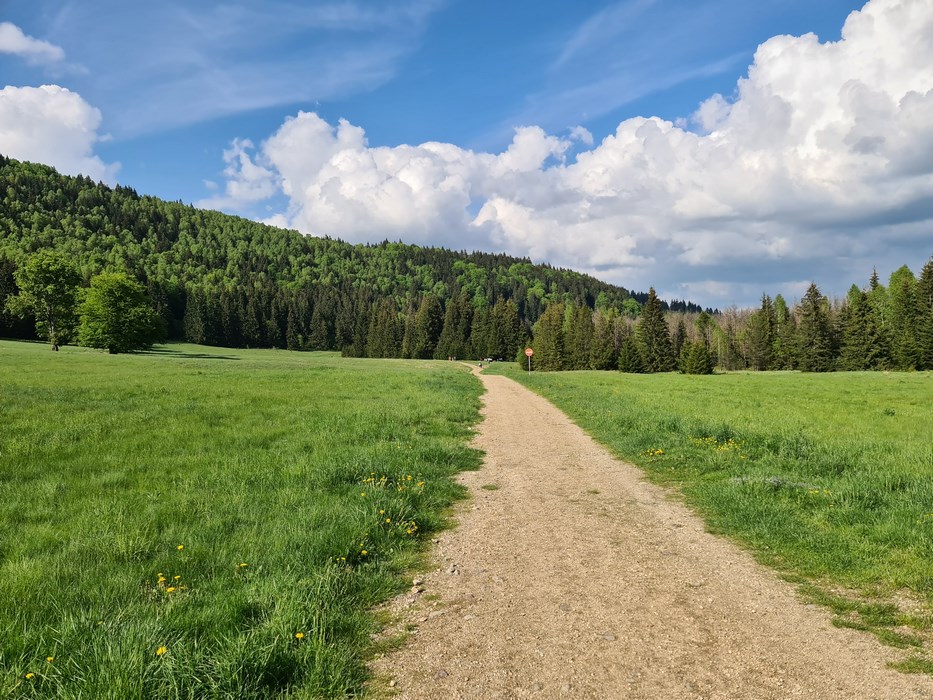 The path to Tinovul Mohos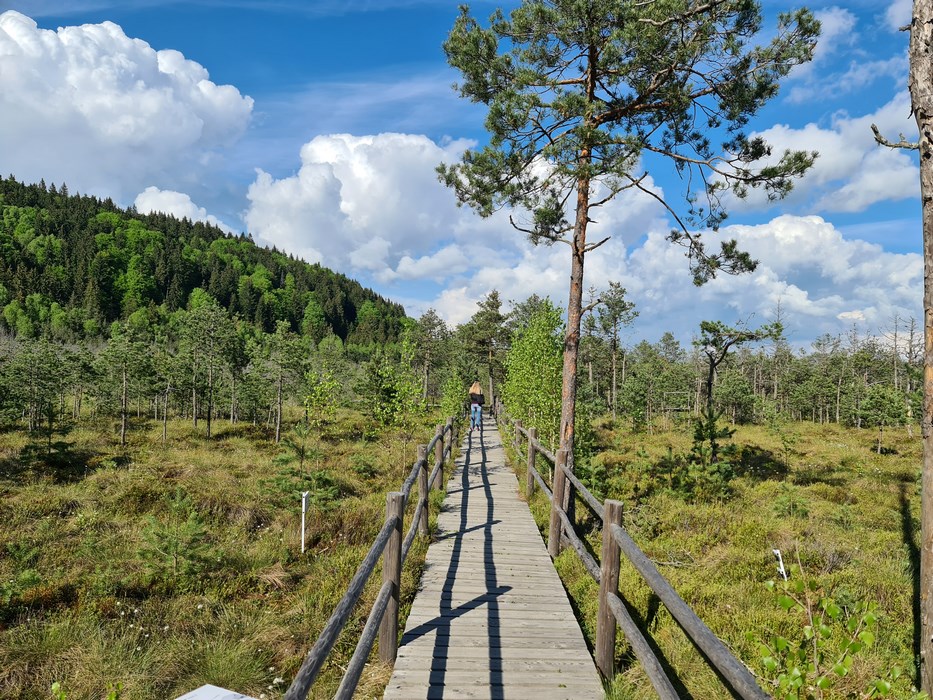 Inside – you only walk on the bridge, otherwise you don't know…
Everywhere, dead trees
And here's the culprit
Young soil being carbonized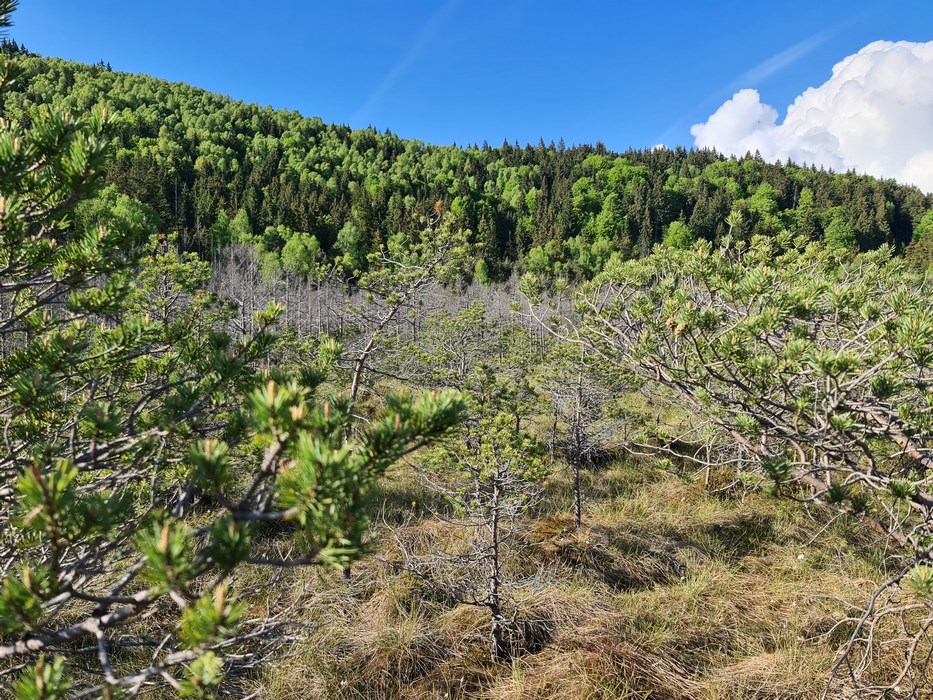 Life and death
One of the many ponds that survived the great ash-covered lake
That's what it looks like from above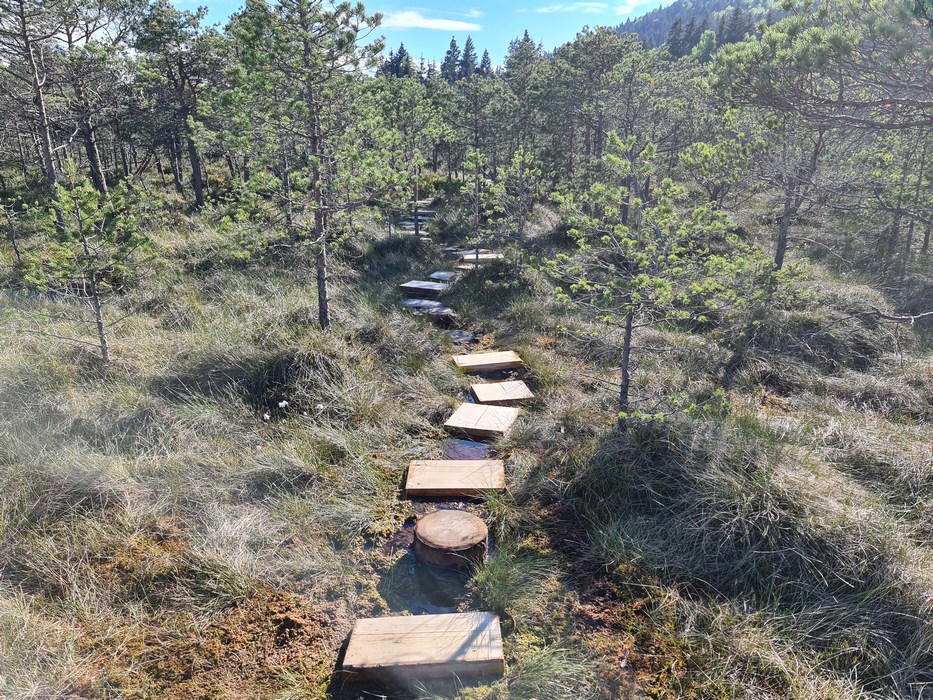 Just on the trail!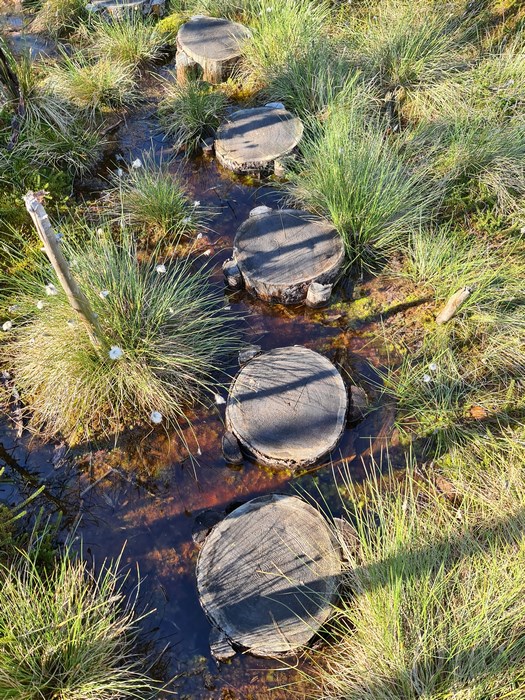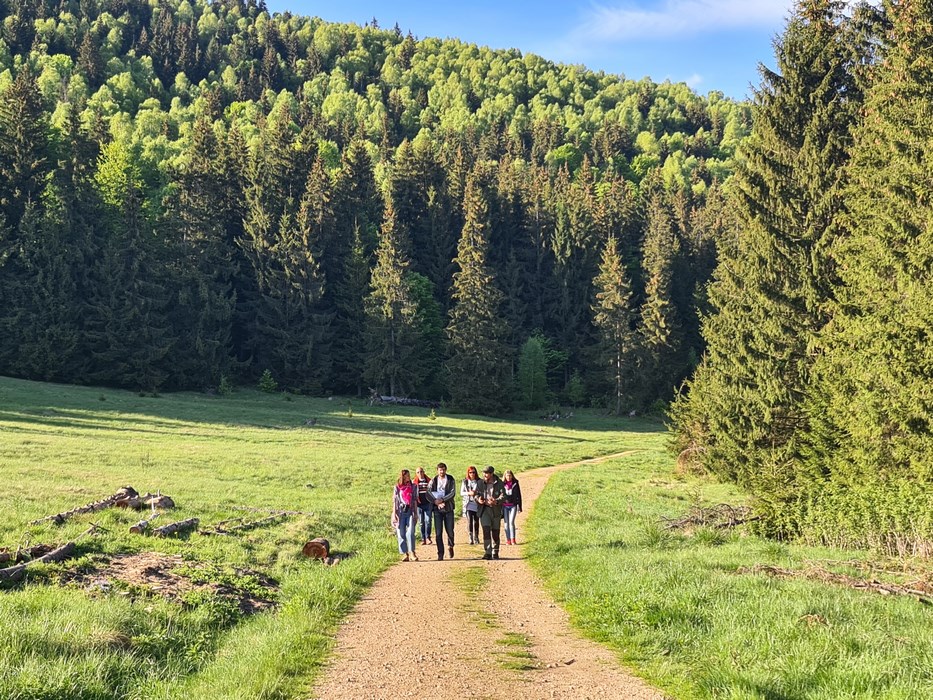 I visited Tinovul Mohos, followed by Lake Sf. Ana
Not before throwing ourselves on a famous Szekler specialty
Kortos kolacs!
Lake Sfanta Ana, the only volcanic lake in Romania
You can go boating, but swimming is forbidden
Invasive fish
Reflections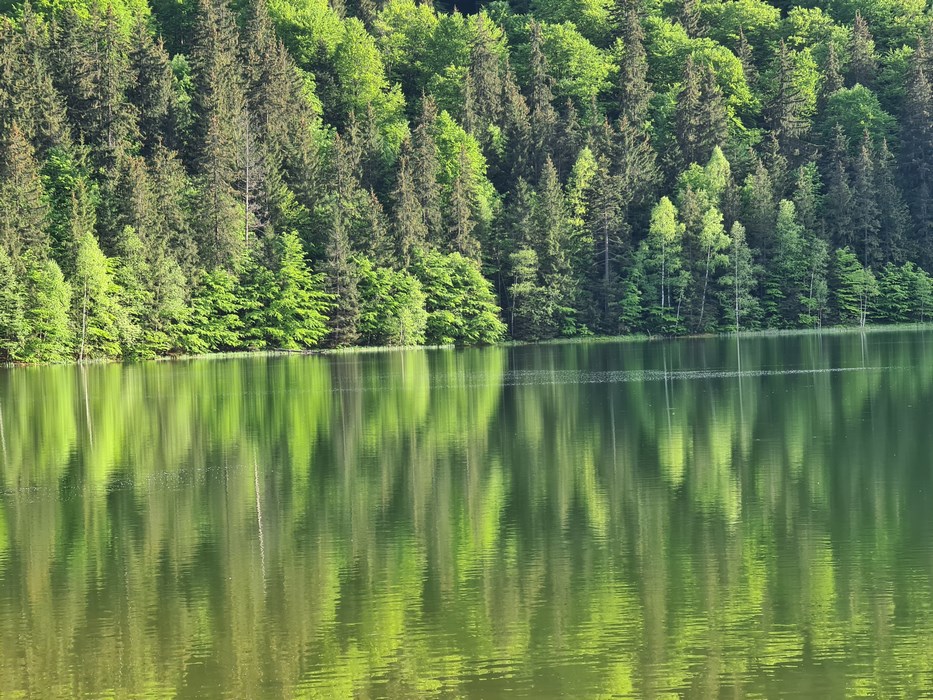 Lake Sfanta Ana from above
You have all the information
Note: The images in the drone are taken from the friends at In Sandale